The McGill Student Emergency Response Team is a student-run volunteer service, supported by the Students' Society of McGill University (SSMU). Our mission is to provide a free and accessible first aid service to McGill University and the greater Montreal community.
Our team is made up of 80+ dedicated volunteers that are certified First Responders and Emergency Medical Responders under the Canadian Red Cross. We carry a wide range of first aid equipment, including automated external defibrillators, oxygen tanks, cervical collars, and Epi-Pens, and we operate under nationally-recognized protocols. We respond to all McGill residences, with the exception of Solin Hall, between the hours of 18h00 and 6h00.
As an official training partner of the Canadian Red Cross, we aim to disseminate first aid knowledge and skills to the public, by offering first aid courses and certifications.
Psychological / Mental Health
Executive Director
Noah Merali (he/they/il/iel)
Noah is the Chair of the Executive Committee and the official spokesperson for MSERT. They oversee the operation of the team and support the individual portfolios of each executive member. They are responsible for ensuring that all of MSERT's actions are in line with MSERT and SSMU's constitutions and by-laws. Noah is responsible for initiating changes on all official documents to keep them up to date. They enforce rules and regulations as outlined by the Warnings and Disciplinary Procedures Manual. They are MSERT's liaison with outside organizations such as other SSMU services and McGill security. Noah has been a volunteer with MSERT since 2018.
Director of Personnel
Fiona Howse (she/her/elle)
Fiona manages MSERT's service requests, volunteer scheduling, and internal communications. She plans social events for team members alongside her events coordinators, Catherine and Nil. Fiona also works with Michael, her scheduling coordinator. She is also the 24-hour contact for all MSERT volunteers. Fiona has been a volunteer with MSERT since 2019.
Director of Operations
Anil Esleben (he/him/il)
Anil manages MSERT's equipment orders and inventory and acts as our liaison with outside suppliers. He is also responsible for maintaining our operation headquarters in residence rooms, our office and the McGill gym. Anil leads a team of three operations coordinators. His Upper Residence coordinator Grisha, and his Lower Residence coordinator Celine both take care of our rooms and first aid supply stocks in residence. His Office and Hockey coordinator, Alex, deals with our supplies stocks in our office and hockey locations, and manages the office hour schedule. Anil has been a volunteer with MSERT since 2019.
Director of Finance & Conferences
Anuttara Devassy (she/her/elle)
Anuttara creates and oversees the MSERT budget, tracks and processes payments, and deals with reimbursements for team members. She communicates with the SSMU department of finance to ensure the smooth running of our financial operations. Anuttara is also responsible for organizing MSERT's fundraisers, creating sponsorship packages, and seeking out sponsors. She works closely with her Finance & Conferences coordinators, Aaron and Kinsley. Lastly, Anuttara facilitates MSERT's participation in ACERT conferences. Anuttara has been a volunteer with MSERT since 2019.
Director of Training
Ben Lo (he/him/il)
Ben is responsible for planning and executing training sessions for the team based on Canadian Red Cross protocols. He is the chair of the training committee composed of six training coordinators: Simon, Nassim, Christina, Bill, Emily, and Andrew. Together, the committee ensures that MSERT's responders stay up to date on their skills and response protocols. He also works in tangent with the Internal Affairs portfolio to bring in external training for the team. Ben has been a volunteer with MSERT since 2019.
Director of Courses & Public Relations
Cat Wang (she/her/elle)
Cat facilitates Canadian Red Cross first aid courses offered by MSERT to McGill staff and students and the greater Montreal community. She is the liaison with our external training partner Impact Santé and coordinates the First Responder and Emergency Medical Responder courses for new and returning members. She works closely with the Courses & PR Coordinators, Gabriel and Hugh. Together, the committee is responsible for creating promotional materials for the team, updating MSERT's social media, maintaining the website, and organizing in-person PR activities. Cat has been a volunteer with MSERT since 2019.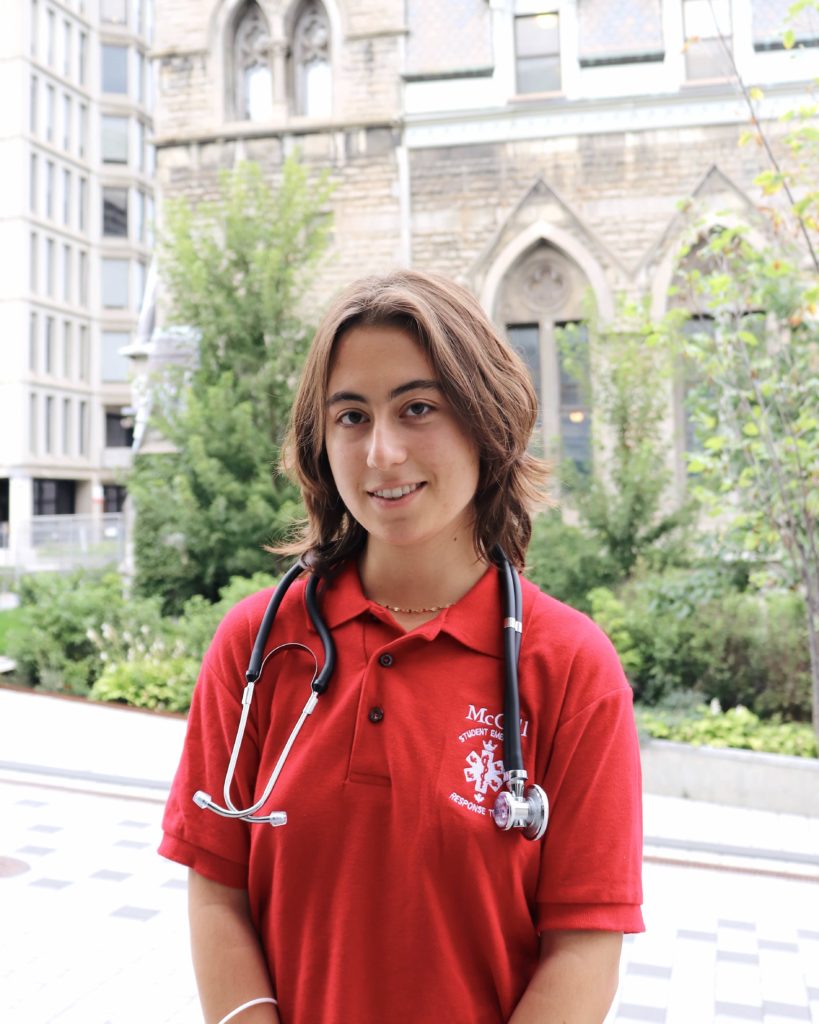 Director of Internal Affairs
Eda Montalieu (she/her/elle)
Eda manages MSERT's statistics and feedback systems, including compilation of call statistics, McGill community comments, and internal suggestions and progress reports. She designs and implements the team's equity curricula. Eda works with Noah on policy creation and revision, and with the internal affairs coordinators, Maya and Paary, on perpetual improvement of MSERT's operational and analytical capacities. Eda has been a volunteer with MSERT since 2019.
MSERT operations would not be possible without the generous contributions of our fantastic sponsors! 
If you are interested in sponsoring or donating to the McGill Student Emergency Response Team please email msert.finance@gmail.com