The McGill Student Emergency Response Team is a student-run volunteer service, supported by the Students' Society of McGill University (SSMU). Our mission is to provide a free and accessible first aid service to McGill University and the greater Montreal community.
Our team is made up of 80+ dedicated volunteers that are certified First Responders and Emergency Medical Responders under the Canadian Red Cross. We carry a wide range of first aid equipment, including automated external defibrillators, oxygen tanks, cervical collars, and Epi-Pens, and we operate under nationally-recognized protocols. We respond to all McGill residences, with the exception of Solin Hall, between the hours of 18h00 and 6h00.
As an official training partner of the Canadian Red Cross, we aim to disseminate first aid knowledge and skills to the public, by offering first aid courses and certifications.
Psychological / Mental Health
Executive Director
Hugh Deng (he/him/il/)
Hugh is the Chair of the Executive Committee and the official spokesperson for MSERT. He oversees the operation of the team and supports the individual portfolios of each executive member. He is responsible for ensuring that all of MSERT's actions are in line with MSERT and SSMU's constitutions and by-laws. Hugh works with the Director of Internal Affairs on change to all official documents to keep them up to date. He enforces rules and regulations outlined by the Warnings and Disciplinary Procedures Manual. He is MSERT's liaison with outside organizations such as other SSMU services and McGill security. Hugh as been a volunteer with MSERT since 2020.
Director of Personnel
Michael Lehrhoff (he/him/il)
Michael manages MSERT's service requests, volunteer scheduling, and internal communications. He plans social events for team members alongside his events coordinators, McEnroe, Sophie, and Alyson. Michael also works with Harrison, his scheduling coordinator. He is also the 24-hour contact for all MSERT volunteers. He has been a volunteer with MSERT since 2020.
Director of Operations
Grisha Anisimov (he/him/il)
Grisha manages MSERT's equipment orders and inventory and acts as our liaison with outside suppliers. He is also responsible for maintaining our operation headquarters in residence rooms, our office and the McGill gym. Grisha leads a team of three operations coordinators. His Upper Residence coordinator Cesar, and his Lower Residence coordinator Raphaelle both take care of our rooms and first aid supply stocks in residence. His Office and Hockey coordinator, Sebastian, deals with our supplies stocks in our office and hockey locations, and manages the office hour schedule. Grisha has been a volunteer with MSERT since 2020.
Director of Finance & Conferences
Aaron Wang (he/him/il)
Aaron creates and oversees the MSERT budget, tracks and processes payments, and deals with reimbursements for team members. He communicates with the SSMU department of finance to ensure the smooth running of our financial operations. Aaron is also responsible for organizing MSERT's fundraisers, creating sponsorship packages, and seeking out sponsors. He works closely with his Finance & Conferences coordinators, Annie and Kinsley. Lastly, Aaron facilitates MSERT's participation in ACERT conferences. Aaron has been a volunteer with MSERT since 2019.
Director of Training
Anil Esleben (he/him/il)
Anil is responsible for planning and executing training sessions for the team based on Canadian Red Cross protocols. He is the chair of the training committee composed of nine training coordinators: Simon, Sabrina, Nicole, Ellie, Charles, Ben, Dasha, Farah, and Flemming. Together, the committee ensures that MSERT's responders stay up to date on their skills and response protocols. He also works in tangent with the Internal Affairs portfolio to bring in external training for the team. Anil has been a volunteer with MSERT since 2019.
Director of Courses & Public Relations
Gabriel Berberi (he/him/il)
As the official representative of the Canadian Red Cross at McGill, Gabriel facilitates first aid courses offered by MSERT to McGill staff and students, as well as the greater Montreal community. He is the liaison with our external training partner Impact Sante and coordinates the First Responder, Emergency Medical Responder, and Basic Life Support courses for new and returning members. He works closely with his Courses and PR coordinators, JC, Kathy, and Alex. Together the committee is responsible for creating promotional materials for the team, updating MSERT's social media, maintaining the website, and organizing in-person PR activities. Gabriel has been a volunteer with MSERT since 2019.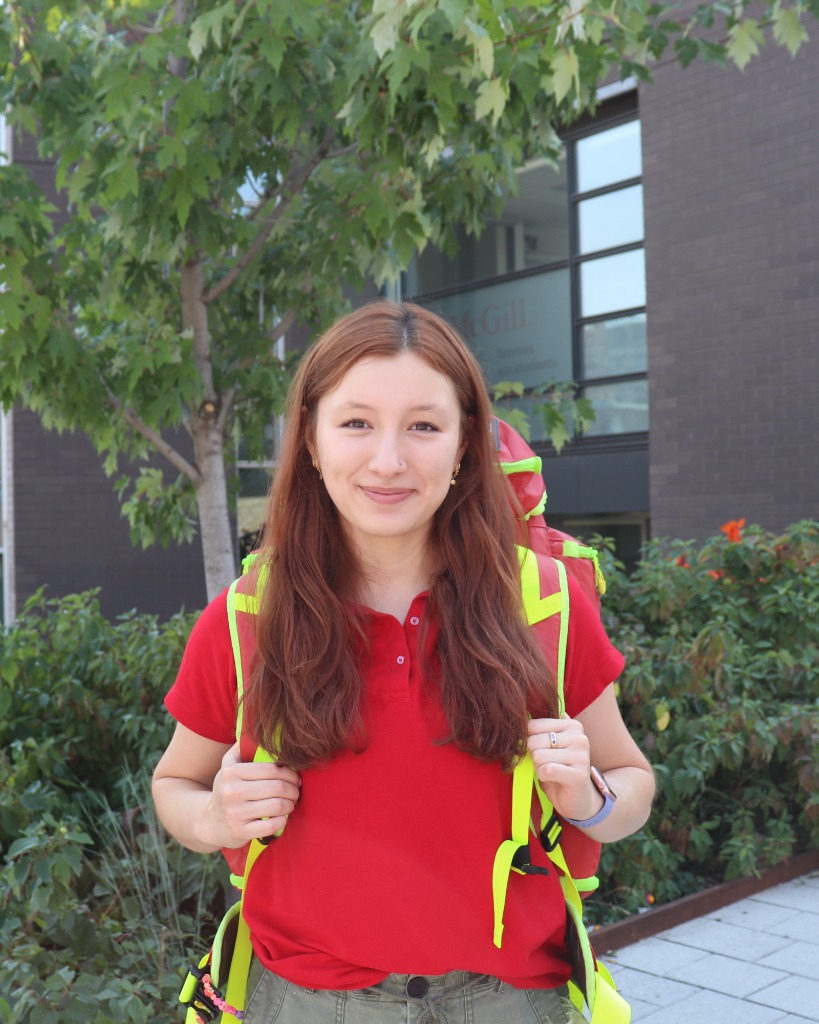 Director of Internal Affairs
Maya McKeown (she/her/elle)
Maya manages MSERT's statistics and feedback systems, including compilation of call statistics, McGill community comments, and internal suggestions and progress reports. She designs and implements the team's equity curricula. Maya works with Hugh on policy creation and revision, and with the internal affairs coordinators, Graham and Will, on perpetual improvement of MSERT's operational and analytical capacities. Maya has been a volunteer with MSERT since 2019.
1997-1998 
The McGill Student Emergency Response Team was established by students in the Winter Semester of 1997, supported by the Student's Society of McGill University (SSMU).
1998-1999 
Winter of 1999 represented growth for MSERT, as it upgraded in status from a SSMU Club to a SSMU Service and the number of volunteers increased from 10 to 50 members.
2000-2001 
As a member of ACERT, the Association of Campus Emergency Respose Teams of Canada, MSERT undertook the organization and hosting of the ACERT MIXER competition. This event provides participants with the opportunity to share experiences, improve their knowldge, and test their first aid skills in an atmosphere of friendly competition. 
Demand for first aid coverage at special events increased four-fold. MSERT upgraded its training processes as well as their equipment.
2001-2002
At the SSMU awards ceremony, MSERT took home the SSMU Service of the Year and SSMU President of the Year, as well as being nominated for Volunteer of the year and Campus Life Fund Event of the Year.
This year, MSERT began offering low-cost Standard First Aid courses to the McGill community, and marked the beginning of campus coverage at Gerts bar, various Intramural Sports.
2003-2004
In 2004, MSERT began stationing responders on call overnight at Upper Residences. What started as a pilot program proved to be greatly appreciated by the students.
2004-2005
MSERT began scheduling the Upper Residence shifts for every night of the week, essentially doubling the team's volunteer hours.
This year was also the first that M-SERT organized a First Responder course to increase the level of training of its members. The course includes advanced first aid skills and theory, including airway management, spinal injury management and oxygen administration. Additionally, M-SERT purchased an Automated External Defibrillator (AED), the first on campus, and trained 4 members in its operation.
M-SERT was also designated the largest English- authorized provider of first aid courses in Quebec at this point.
M-SERT members were able to place 3rd in the NCCER competition this year, demonstrating an excellence of care and patient management, even in comparison to other, more established, first response teams.
2005-2006 
In 2005-2006, all members were trained to use the AED and it was placed in Upper Residence to be used when responding. 
In terms of service, volunteer hours tripled this year in comparison with previous years and M-SERT became involved in Frosh and Discover McGill training for the first time, helping to train the volunteers by supplying them with first aid information relevant to these activities. In February of 2006, M-SERT hosted the NCCER competition, allowing other Canadian universities to experience Montréal. M-SERT was also given a seat on the ACERT Board of Directors this year, giving M-SERT a voice at the national level.
2006-2007
Throughout this year, most Shift Supervisors were Canadian Red Cross First Responders, increasing the level of care that the team could provide on every shift.
To maintain this high level of care, member evaluations were instated and carried out as needed on an impartial basis.

2007-2008
M-SERT initiated a new project that gave them the authority to operate AEDs on the McGill campus. The condition of each AED should be checked on a regular basis to ensure that they are in working condition, should they be needed in an emergency.
This year, M-SERT increased its proportion of trained Canadian Red Cross First Responders to over 80% of its members. In order to increase the level of care as a provider, M-SERT made it mandatory that each Shift Supervisor hold this level of certification, or the equivalent. To maintain the team's level of training, M-SERT created a committee of Training Coordinators, the Training Committee, who are devoted to ensuring that all members' skills are kept fresh and up- to-date.

2008-2009
Considerable steps towards drafting an on-call campus-wide coverage proposal began in 2008- 2009. The completed proposal, submitted to the McGill Administration in the Winter Semester of 2009, outlined a preliminary scheme of the coverage that M-SERT would provide to the McGill Downtown Campus between the hours of 09h00 and 15h00.
Seven members were trained as Canadian Red Cross Standard First Aid Instructors to keep up with the ever-increasing demand of first aid courses.
In April, M-SERT was once again recognized as the SSMU Service of the Year.
2009-2010
M-SERT hosted the three-day MIXER conference in November, boasting an attendance of nearly 150 delegates from campus emergency response teams across Canada.
This year, M-SERT also participated in a school shooting simulation during the Thanksgiving weekend, in conjunction with McGill Emergency Measures, Urgences Santé, and the Montreal Police Department, playing the role of victims and providing casualty simulation. M-SERT then partnered with Missions de Solidarité Responsable International (MSR), and, together, sent a team of M-SERT members to Haiti in June 2010, following the devasting earthquake.
M-SERT took home the SSMU Service of the Year award for the second year in a row.
2010-2011
The summer of 2010, the Executive Committee decided to pursue the expansion of M-SERT's service in Residences to include the area of Lower Residences (Royal Victoria College, Carrefour Sherbrooke, University Hall, Presbyterian College, and New Residence Hall).
M-SERT worked hard to increase its exposure on campus through an involvement with Orientation Week, Frosh, Safety Week and SSMU-endorsed events. After its September 2010 recruitment, M-SERT was at its largest membership, with approximately 59 Active members.
2011-2012
M-SERT's expanded coverage included responding to calls in Greenbriar, Presbyterian College, University Hall, Royal Victoria College, and Carrefour Sherbrooke, while maintaining coverage of Gardner Hall, Molson Hall, McConnell Hall and Douglas Hall.
2012-2013
In 2012, M-SERT expanded its coverage in Lower Residences to include both New Residence Hall and La Citadelle.
2013-2014
In 2013/2014, MSERT's no longer held a Training Partner contract with the Red Cross through SSMU.